This website is dedicated to all who proudly served as a Beach Jumper...
---
~ ASSOCIATION NOTICES ~

---

NEW MEMBERS:

RM3 Dorsey L. Gower, BJU2
RM2 Craig Wert, BJU2
EN3 Ronnie Williams, BJU1
SK3 Loren Hanks, BJU1
LT William Lamm, BJU1
SN Larry Marlatt, BJU2
RM2 Larry Goodreau, BJU1
RD3 Ernest Moore, BJU2
LCDR Charles Misuna, FCG2
SN Richard Collins, FCG2
RM2 Gary Clark, BJU2
RM3 Richard Thompson, BJU2
---
OK Beach Jumpers May 18-21, 2017..."It's back to Coronado" at Disney for our
75th Anniversary Celebration Reunion.
Reunion interest
AUGUST 17th 2016 UPDATE: The association has executed a contract with Disney World, the dates are locked, May 18-21, 2017 for our reunion. It will be held at Coronado Springs Resort. On Saturday May 20th (Armed Forces Day) we will have our dinner and meeting, followed by a fireworks display in Epcot with special seating for our association members & guests. In the next week, webpages will be uploaded to our website with complete information and registration info for both the association and Disney reservations.

Yes, we are having a 75th Anniversary Celebration Reunion. If you are truly interested in attending click on the WDW graphic above for more details and answer a short questionnaire.


---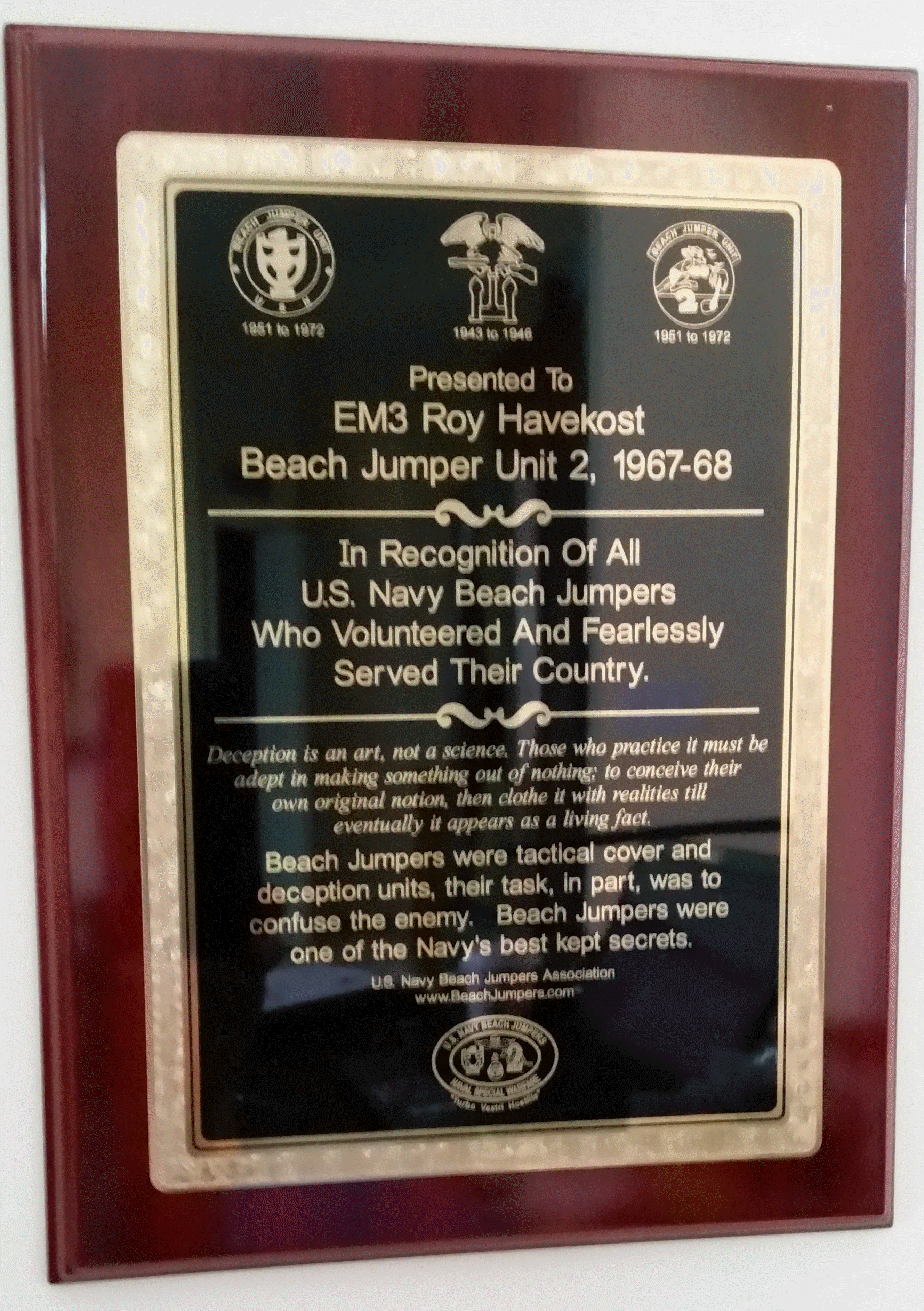 9"x12" Mahogony personalized

commemorative plaques being offered to members,

click here for more information on ordering process.
---
The link for

Annual Dues for 2016 is available,

Pay my 2016 dues online now

dues is requested by
Jan. 31st each year.

Members in arrears must pay both 2015 and 2016 to be brought back in good standing for 2016.

A link is provided on the 2016 dues page
to pay for 2015.
Regular members 80 years of age or older, are dues exempt members at their discretion. To those members who are 80+ and continue to pay annually, we appreciate your contribution.
First time applicants 80 years or older, must pay the initial $25.00 application fee.
( email us your DOB for this dues exemption to admin@beachjumpers.com )
APPLICATION/DUES FYI:
1. The Admin Office has rec'd many applications during the past year, however many of the applicants have not sent in the required $25.00 initial process fee (which is applied to the first year or portion of first year dues) and therefore the application is sitting dormant. If you have applied and not heard anything back, this may be the reason. Applications will not be processed without the application fee, this includes new members age 80 or older.
2. Regarding dues, a member is listed as not in good standing after a dues lapse of one year. Members not in good standing must pay two years dues to be reinstated to good standing status. Some members have sent in a new application thinking that this step can be by-passed. If you have a member number on file (since our inception) you cannot become a new member, you just need to pay up the two years dues. This rule was voted in by the membership in October 2009.
---
OS1 Philip J. Richter Jr.
FCG2, 1973-78

d. August 15, 2016

fair winds and following seas shipmate...

9/1/16
OS1 James A. Franklin
BJU1, 1964-71

d. August 21, 2016

fair winds and following seas shipmate...

8/21/16
Ens. Joseph C. Hogan
BJU6, 1943-45

d. August 18, 2016

fair winds and following seas shipmate...

8/19/16
Death notices are posted for 30 days from the date the association is notified.
The BJA Memorial page has some newly updated personal page
links of some of our members who have passed away.
Click here to view.
If you have information on a deceased member who does not have a personal memorial page, send it to admin@beachjumpers.com and one will be created.
---
Website update, 2016, the site will be going through a redesign this year. During the updating process you may be directed to a page from the older site (of 2006) or the msg. may say page cannot be found, but this is only temporary. Individual members photo galleries will be created with photos that you have sent in during the years. Some of the older gallery pages have become corrupt and are not readable in the current web design thus prompting this new change. This will be a continuous work in progress so please bear with us during this modification to our site.
From the member roster pages an icon
link will be added to your name and link to a gallery of photos you have submitted.
This portion of the redesign is scheduled to begin in August 2016. Thanks for your patience.
---
HAVE YOU SHOPPED IN OUR NEW SHIPSTORE YET?

CLOTHING APPAREL, DRINKWARE, MISC. ACCESSORIES
Check back often, new products added regularly
---